Since 2010, the DEA has authorized National Drug Take-Back events biannually in April and October in response to the opioid crisis. Results following the 21st National Prescription Drug Take Back Day, hosted on October 23rd, 2021, reported a record 15,267,473 pounds (7,634 tons) of medications had been collected since the initiative's inception in 2010. These events have long provided a safe, convenient, and responsible means for disposing of prescription drugs while educating the public about the potential for abuse of medications.

As drug experts, Pharmacists play key roles in helping to educate the community on the safe use and disposal of medications. In partnership with law enforcement, pharmacists' participation in these events not only assists in collecting unused medications but it provides another touchpoint for pharmacists to share valuable information with patients in mitigating risks associated with opioid misuse and overdose.


If your pharmacy is interested in participating in the DEA's National Drug Take Back Initiative in April or October

Consider these steps to ensure a successful event


Take Back Tip:
Hosting an event on National Take Back Day is financially the best option for law enforcement.  The DEA covers the cost of drug disposal when law enforcement participates in drug take-back events that coincide with the DEA's National Prescription Drug Take-Back Days in April and October.  If law enforcement hosts an event outside of these dates' the cost of drug disposal falls on the responsibility of the law enforcement agency.
Step 1: Partner With Local Law Enforcement
This is a requirement as law enforcement is responsible for collecting and destroying all medications resulting from the take-back event. Contact the local Police Department or Sheriff's office in your area to express your interest in partnering for the next event.
Need help in locating the contact information for your local PD or sheriff's department?
Click on the linked images below for assistance.  
Take Back Tip:
If local law enforcement (Police or Sheriff) is new to hosting a Drug Take Back Event, refer them to the below contact to receive further information on registering their collection site (i.e your pharmacy):

Ashley Wade
Diversion Investigator, Raleigh District Office Drug Enforcement Agency
571-362-3858 Office | 336-706-7528 Cell
Step 2:   Reach Out to SBI or DEA Offices if Local Law Enforcement is Unavailable
If you are struggling to get commitment from local law enforcement or your local law enforcement agencies have a  conflict with being able to  partner with you, reach out to your regional State Bureau of Investigation (SBI) or North Carolina DEA office for assistance.  The SBI and DEA agencies generally have agents to help when local law enforcement are unavailable, especially for the National Drug Take Back Events.
SBI Offices
Capital District (Raleigh): (919) 229-8188
Coastal District (Jacksonville): (910) 346-2121
Northeastern District (Greenville): (252) 756-4755
Northern Piedmont District (Greensboro): (336) 303-4840
Northwestern District (Hickory): (828) 330-3230
Southeastern District (Fayetteville): (910) 778-5724
Southern Piedmont District (Harrisburg): (980) 781-3000
Western District (Asheville): (828) 330-4700
DEA North Carolina Offices
Asheville: (828) 350-3440
Charlotte: (704) 770-2050
Greensboro: (336) 547-4210
Raleigh: (919) 790-3004
Wilmington: (910) 815-4513

Step 3: Review the National Take Back Initiative (NTBI) Collection Site Protocol
Step 4: Consider Set-Up Needs and Logistical Details
 A. Supplies: Some essentials include:
Collection containers -Should be leak proof and able to be incinerated along with the medication if needed
Tape to secure boxes for transport
Chairs for volunteers and law enforcement officers
Covers for shade or rain protection, such as a pop-up tents or tarp, if location doesn't have a covered area
Table for promotional materials, resources, and/or handouts (if desired) s
Water for volunteers and law enforcement officers
Trash bags
Signs indicating the take back event location (to hang in the pharmacy, from the table or on a nearby wall)
Directional signage for event location (if needed)
Disposable gloves to use in case medication needs to be handled
Optional supplies:

Camera to document the event
A scale for weighing the amount of medication collected
Pens and clipboards to conduct surveys or questionnaires
Food for volunteers
Paper sacks to collect medications from car windows if your take back is a drive-through (and then put the sacks in the collection box)
Take Back Tip:
If you host a take back event on the DEA National Take Back Days, the DEA will supply all boxes, plastic bags, and tape needed for collecting and securing medications for disposal. Contact your regional DEA Office to verify how you go about obtaining these supplies prior to your event

B. Volunteers
Volunteers will be instrumental in helping you set up for your event.  Numbers will vary based on your location and anticipated level of participation.  Good rule of thumb is to at least have 4 or more organizers (volunteers or staff) present to ensure adequate coverage.   Pharmacy students make excellent volunteers for assisting in handing out and counseling on any resources you may choose to provide during your take-back event. 
Take Back Tip:

If you would like to use NCAP's advertising medium to solicit volunteers for your event, simply reach out to:


[email protected]

| (984) 439-1647
With the below information and we will be glad to advertise your event needs through our social media channels and weekly newsletter publication. 

Please include:
The Date and Time of Your Drug Take-Back Event
The Name of Your Pharmacy
Where Your Take-Back Event will be Held (Include full address: street, city, zip, county)
The name, email and phone of the person you would like interested volunteers to contact
Step 5: Promote Your Event
Planning is the key to successful promotion of a take back event. To advertise your event to everyone in the community, consider multiple avenues. 
Start with registering your event on the NC Department of Insurance Operation Medicine Drop site. Once registered your event will be captured in the sites map of upcoming event locations PLUS  you'll receive free promotional items to give out at your event.
You can also click on the image below to access the event registration page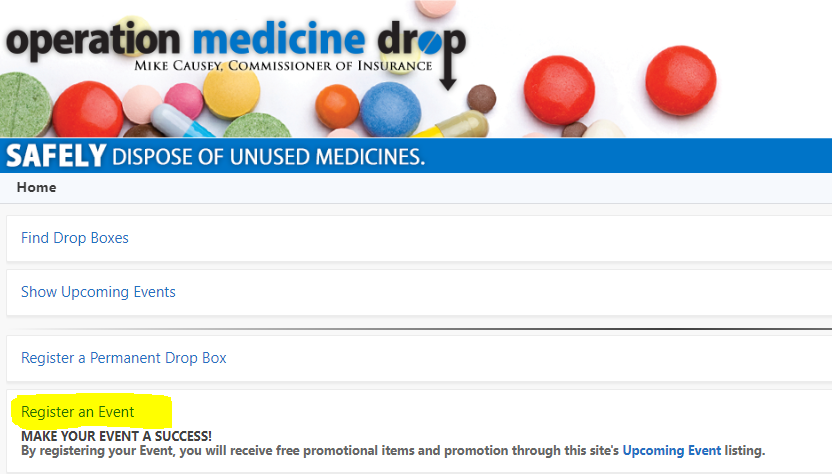 Other advertising options include:
Flyers posted in your pharmacy
Stickers placed on prescription packaging or printed inserts/strips of papers given out with prescriptions
Tear-pads at pharmacies so customers can tear off a sheet with all relevant information about the take back event
Advertisements posted on Pharmacy Website Homepage
Social network pages (such as Facebook, Twitter, etc.) for your organization, law enforcement agency, and other community organizations
Newsletter from your organization and/or other community newsletters
Local school newsletter and packets sent home from schools for parents
Paid advertisements on television and in the newspaper
Take back information posted on online community calendars and the events webpages of local newspapers 
Newspaper articles and letters to the editor
Radio interviews or radio public service announcements (PSAs)
Yard signs around town in the front-yard of homes and lining the street at the take back location and billboards
Interviews on local morning or news shows
Presentations to local chamber of commerce and other community groups